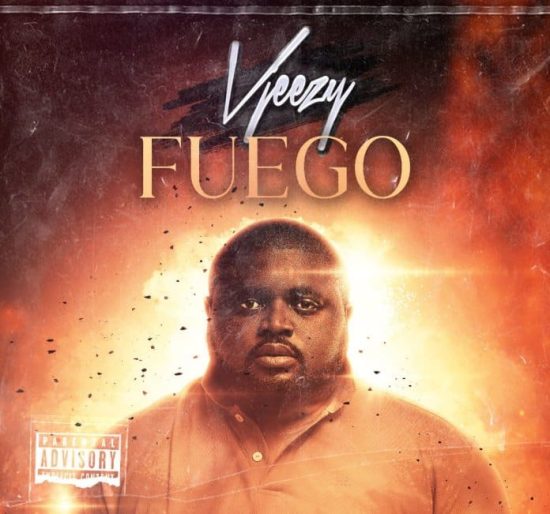 Vjeezy unveils the tracklist of his forthcoming album "Fuego" which is set to be released on 15th October, 2020. The album has some international artists on it such as Tanzanian artist – Ay & Nigerian singer – Skales. It also features our own local artist such as Slapdee, Jay Rox, Yo Maps, T Sean, T-Bwoy, Dope G, Bow Chase, Chef 187, Mic Burner, K'Chinga, Brizzo, Cleo Ice Queen & More. It has 17 songs on it.

See Tracklist Below!
1. Fuego Intro feat Zein BassFlexx
2. Special Feeling feat Dimpo Williams, Ice Prince, Slapdee
3. Auto Correct ft. Jay Rox, Ay & Mampi
4. Commander ft. Yo Maps, Bow Chase, TBwoy
5. Wele Wele ft. Chef 187 & T Sean 
6. So Che ft. Jack Fizzle & Dope G
7. Chimbilimbili (Fuego) ft. Drifta Trek & Macky 2
8. No Sleep ft. Mic Burner & Jae Cash
9. Body Good ft. F Jay, Cactus Agony, Tommy Dee
10. Pretty Gyal ft. Purpose, Cleo Ice Queen & Brizzo
11. Packachi ft. Bow Chase
12. Pop That Melanin ft. Slapdee, Mic Burner
13. How We Do ft. Urban Hype
14. Are You Down ft. Jack Fizzle, Willz & B-Mark
15. Everyday ft. Cinori Xo & Dope Boys
16. Stay Lit ft. K'Chinga & Trippy Hippy
17. No Chance ft. Jay Rox, Chef 187 & Skales.
See below image!
| | | | | |
| --- | --- | --- | --- | --- |
| 01 | | Yo Maps - Mr Romantic | | Download |
| 02 | | Slap Dee ft. Cassper Nyovest - African Queen | | Download |
| 03 | | Chile One Ft. Chef 187 – Why Me | | Download |
| 04 | | Xaven Ft. Nez Long – Idedeshe | | Download |
| 05 | | Blake ft. Macky 2 – Dirty | | Download |
| 06 | | Alifatiq ft Rich Bizzy – Better | | Download |
| 07 | | Slap Dee ft. Cassper Nyovest - African Queen | | Download |
| 08 | | Chile 84 - Alira Wina | | Download |
| 09 | | Yo Maps - Aweah | | Download |
| 10 | | Macky 2 - OLIJABA (Full Album) | | Download |
| 11 | | Slapdee - Bola Ibaba | | Download |
| 12 | | Macky 2 – Mwilanchilila | | Download |
| 13 | | Yo Maps ft T Sean – Tiliko | | Download |
| 14 | | Download Hot Gospel Songs | | Download |
| 15 | | Chanda Na Kay – Zambia Izavina (Album) | | Download |