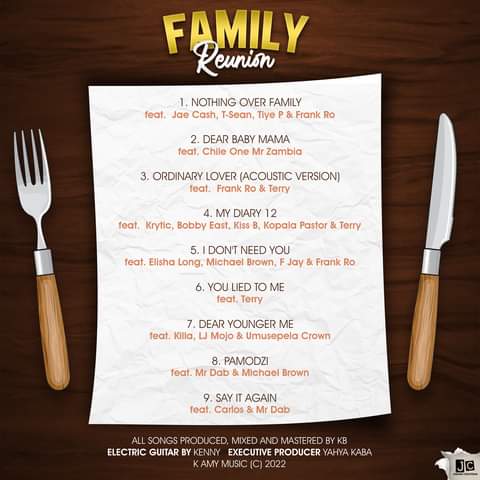 K-Amy CEO – Yahya Kaba popularly known as Kb Killa Beats has got an album tagged "Family Reunion". Its the album which is currently on demand following Macky 2's Olijaba release. The album has My Diary 12 on it and some top artists on it as well as new rising artists. KB writes; Here is something I didn't tell you before. I came up with the name Family Reunion from a song that I plan to make a series like My Diary. The clue I left was the empty plate. That should tell you that it continues. That song has the people you see on the album cover.
So Family Reunion will be a 4 or 5 part series that will accommodate every single artist that passed through K Amy.

Track number six on the album is titled "I Dont Need You". It features Elisha Long, Michael Brown, F Jay, Frank Ro. Since ilovezedmusic.com is well known as a home of music and entertainment updates, It will be a nice choice for you to bookmark this website and use the search button to look for any music of your choice ( in the case of old songs which you could not find, don't worry just notify us via the comment section we will update it ASAP) and don't forget to let us know how you feel after each download.
Content Tags
KB – I Dont Need You Mp3 Download
KB ft. Michael Brown, F Jay, Frank Ro – I Dont Need You Mp3 Download
KB ft. F Jay, Frank Ro – I Dont Need You Mp3 Download
KB ft. Frank Ro – I Dont Need You Mp3 Download
| | | | | |
| --- | --- | --- | --- | --- |
| 01 | | Yo Maps - Mr Romantic | | Download |
| 02 | | Slap Dee ft. Cassper Nyovest - African Queen | | Download |
| 03 | | Chile One Ft. Chef 187 – Why Me | | Download |
| 04 | | Xaven Ft. Nez Long – Idedeshe | | Download |
| 05 | | Blake ft. Macky 2 – Dirty | | Download |
| 06 | | Alifatiq ft Rich Bizzy – Better | | Download |
| 07 | | Slap Dee ft. Cassper Nyovest - African Queen | | Download |
| 08 | | Chile 84 - Alira Wina | | Download |
| 09 | | Yo Maps - Aweah | | Download |
| 10 | | Macky 2 - OLIJABA (Full Album) | | Download |
| 11 | | Slapdee - Bola Ibaba | | Download |
| 12 | | Macky 2 – Mwilanchilila | | Download |
| 13 | | Yo Maps ft T Sean – Tiliko | | Download |
| 14 | | Download Hot Gospel Songs | | Download |
| 15 | | Chanda Na Kay – Zambia Izavina (Album) | | Download |