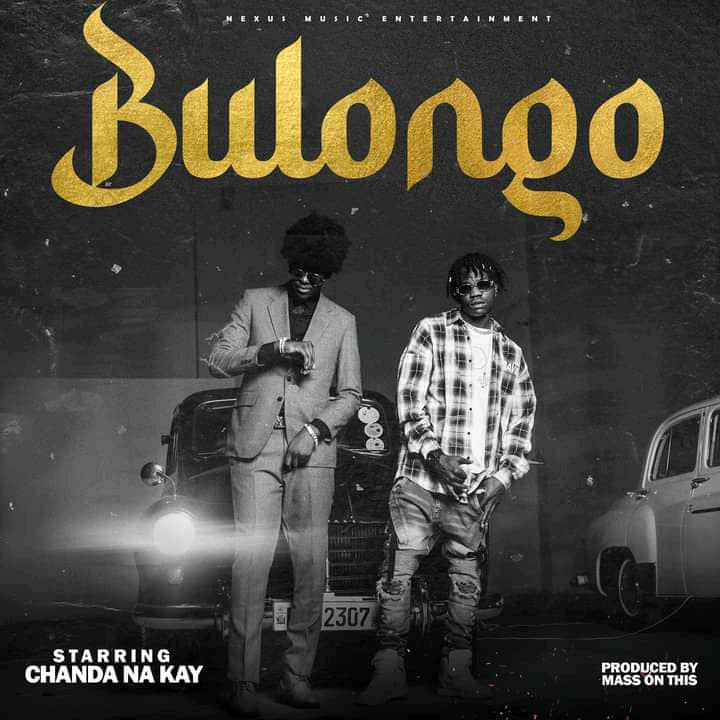 Chanda Na Kay – Bulongo Mp3 Download
Zambia's most influential music duo 'Chanda Na Kay" who are currently signed under Nexus Music Entertainments Ltd surface with a brand new single tagged "Bulongo". Its one of those songs you definitely would want to vibe to this festive season. Just like their previous single "Take All Of Me" which featured gospel artist/comedian "Abel Chungu", It will have a massive airplay on the streets and a good number of statistics on digital platforms and free music download websites.

This song "Bulongo" was impressively produced by Mass On This. "Mass On This" has produced a couple of good songs for Chanda Na Kay like Take All Of Me, Ku Wire & Aka Juu. The song is accompanied with a good music video. Its also their last release this month as well as their first release this month. The Song is now available for free download. Check it out below!
Download Now Also Download: Jemax ft. Izrael & Nalu – Will You Love Me
LYRICS: Chanda Na Kay (Bulongo) Lyrics. INTRO Buuuulooooongo Bulongo 3x. [You already what it is right, MassOnThis] Mwikate! Bulongo ( abama dega notusembe) Selako! Wapya Chanda Na Kay Ukooo! CHANDA Muji byepi wekanangwa (Bulo) Kay na Chanda kale twasangwa (Bulo) Wilang'oza kopa zindangwa (Bulo) Wilashalila (Ndibukiji Bulo) KAY Hey sisi hey papa (Bulo) Papa me nkamipapa (Bulo) Nkalamwe mutufi kanganga (Bulo) May i leave the room (Ndibukiji Bulo) CHANDA Bien saana ndeumfwa bulongo (Bulo) Yalilila naine mubongo (Bulo) Nshibakanya aikona ichongo (Bulo) Nali winner (Ndibukiji Bulo) KAY Kay, waimona inkeche (Bulo) Ndeyako mpaka izeteke (Bulo) Noko senge taya asenseke (Bulo) Icho chankama (Ndibukiji Bulo) CHANDA Yangu tata uyu mwana mayo (Bulo) Alyonaika nabana mayo (Bulo) Lelo Febby elo Doro mailo (Bulo) Icho chipailo (Ndibukiji Bulo) KAY Ndepukunya umutwe ngechisekese (Bulo) Abanyolinyoli balila ichi baebaebae (Bulo) Soup saana mushroom tentefe (Bulo) Ndeisumaula (Ndibukiji Bulo) CHANDA Pali Mwaba, Katongo, Towela, Tomaida ni (Bulo) Pali lelo untuke niwe nani (Bulo) Tulapanga sense iwe nane (Bulo) Isa chapazi (Ndibukiji Bulo) KAY Ishabanyoli ngashalila mona epoli (Bulo) Kay ni Bob Mabeg wiya noko uli (Bulo) Fyompili pie ndye iyachiyongoli (Bulo) Minyo minyo (Ndibukiji Bulo) CHANDA Look nice pano popopo (Bulo) Ekomuli uko, nkonkonko (Bulo) Ndetalalilapo africa cocoa (Bulo) Ninshi ninkomeka (Ndibukiji Bulo) KAY Ndanjila muchi Tonga haisha (Bulo) Muhibe kuti hano habija (Bulo) Bakumbwa mbuli mbweboneka (Bulo) Ndasikome boseka (Ndibukiji Bulo) CHANDA Bomfwa umutwe tontonkanya (Bulo) Ubupuba nkakutonta ukanya (Bulo) Elo ngepofili kumwanya mwa (Bulo) Mpaka waikuta (Ndibukiji Bulo) KAY Ex atumina ex ulya bangala (Bulo) Madam aibaulafe ati kwangala (Bulo) Efyo napita mumkopo nembama (Bulo) Nshaitamba bwino (Ndibukiji Bulo) CHANDA Kopa future yalidedeka (Bulo) Solyemofe wintendeka (Bulo) Pabapondo nimpenteka (Bulo) Twaba bonse (Ndibukiji Bulo) KAY Apa Ni Kay ni Sodoma na Gomaula (Bulo) Wapya baisa sela balakomaula (Bulo) Twalibakusha nga onion gaula (Bulo) Abo mwenda nabo (Ndibukiji Bulo) CHANDA Efyo nali akale tefyo iyo (Bulo) Nshampana na Devil iyo (Bulo) So shimike nga date iyo (Bulo) Naba naba shi Emma (Ndibukiji Bulo) KAY Muli huli yonsi tuli chete (Bulo) Zonkapo akokene ukwete (Bulo) Okokwete ako okolete (Bulo) Kokwe kokwe (Ndibukiji Bulo) CHANDA NA KAY Ilyashi ni Chanda Na Kay (Bulo) Ukumipela tatwakanake (Bulo) Waishiba ati banyoli te (Bulo) Apolomya (Ndibukiji Bulo) CHANDA (street vocal) Ehee ehe Ela Bigman (Bulo) eimwe ba Chanda Na Kay (Bulo) aah ah Bakamba muli ba last Bakamba (Ndibukiji Bulo) mmh apasamika umutali umwipi teti abule bigge aaah Abanyolinyoli, aaah Mwikateee.!!! Nexus Music. Massive Producer Logo: Boi This Beat May Cause Spontaneous Head Banging Lyrics By Alkan
Content Tags
Chanda Na Kay – Bulongo Mp3 Download
Chanda Na Kay new song Mp3 Download
Chanda Na Kay – Bulongo Mp4 Download
Chanda Na Kay Bulongo Download Mp3
Download Chanda Na Kay Bulongo
| | | | | |
| --- | --- | --- | --- | --- |
| 01 | | Yo Maps - Mr Romantic | | Download |
| 02 | | Slap Dee ft. Cassper Nyovest - African Queen | | Download |
| 03 | | Chile One Ft. Chef 187 – Why Me | | Download |
| 04 | | Xaven Ft. Nez Long – Idedeshe | | Download |
| 05 | | Blake ft. Macky 2 – Dirty | | Download |
| 06 | | Alifatiq ft Rich Bizzy – Better | | Download |
| 07 | | Slap Dee ft. Cassper Nyovest - African Queen | | Download |
| 08 | | Chile 84 - Alira Wina | | Download |
| 09 | | Yo Maps - Aweah | | Download |
| 10 | | Macky 2 - OLIJABA (Full Album) | | Download |
| 11 | | Slapdee - Bola Ibaba | | Download |
| 12 | | Macky 2 – Mwilanchilila | | Download |
| 13 | | Yo Maps ft T Sean – Tiliko | | Download |
| 14 | | Download Hot Gospel Songs | | Download |
| 15 | | Chanda Na Kay – Zambia Izavina (Album) | | Download |