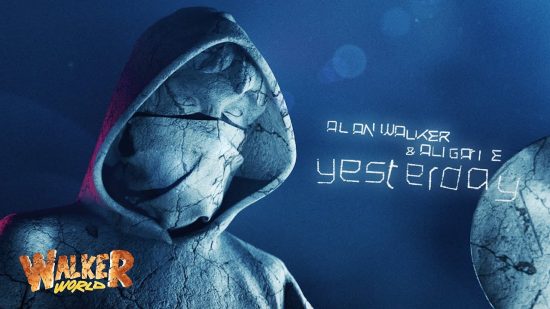 Norwegian-born international DJ and music producer – Alan Walker, unveils a brand new hit song for the WalkerVerse Community which is amazingly titled "Yesterday". The brand-new masterpiece record Yesterday features Iraqi–Canadian singer and songwriter managed by SAL&CO – Ali Gatie. "Yesterday" is a well-crafted and enchanting song that will captivate listeners from start to finish. With its infectious beat and catchy lyrics, this track is a testament to "Alan Walker's" ability to create music that resonates with fans across the globe.

Since ilovezedmusic.com is well known as a home of music and entertainment updates, It will be a nice choice for you to bookmark this website and use the search button to look for any music of your choice ( in the case of old songs which you could not find, don't worry notify us via the comment section we will update it ASAP) and don't forget to let us know how you feel after each download.
On Friday, November 10th, I launched the first part of the Walkerworld album. An album that will continue to grow throughout 2024 with new songs, features, and vocalists! However, Walkerworld is more than just an album; it's a home for all Walkers – a multilayered theme park that will expand with exciting projects for and with you.
Lyrics:

Held your hand in a dream I had in new york
But I never turned around to see your face
Two drunk kids on a boulevard, you faded
woke up, to another empty bed

Now I'm choking, no one knows how I feel
Now you're gone I don't know what's real no

I close my eyes and make tomorrow yesterday
I miss your smile like the deserts miss the rain
10,000 tears but you would dry them all away
If I could make Tomorrow yesterday
Yesterday

We'd head west in a car we can't afford yeah
Flaming lips looking at the stars just friends
I watch the moonlight dancing on,
on the water
Cos i see your face in everything

Now I'm choking, no one knows how I feel
Now you're gone
I don't know what's real no
I close my eyes and make tomorrow yesterday
I miss your smile like the deserts miss the rain
10,000 tears but you would dry them all away
If I could make Tomorrow yesterday
Yesterday
| | | | | |
| --- | --- | --- | --- | --- |
| 01 | | Yo Maps - Mr Romantic | | Download |
| 02 | | Slap Dee ft. Cassper Nyovest - African Queen | | Download |
| 03 | | Chile One Ft. Chef 187 – Why Me | | Download |
| 04 | | Xaven Ft. Nez Long – Idedeshe | | Download |
| 05 | | Blake ft. Macky 2 – Dirty | | Download |
| 06 | | Alifatiq ft Rich Bizzy – Better | | Download |
| 07 | | Slap Dee ft. Cassper Nyovest - African Queen | | Download |
| 08 | | Chile 84 - Alira Wina | | Download |
| 09 | | Yo Maps - Aweah | | Download |
| 10 | | Macky 2 - OLIJABA (Full Album) | | Download |
| 11 | | Slapdee - Bola Ibaba | | Download |
| 12 | | Chile One – I Love You | | Download |
| 13 | | Yo Maps ft T Sean – Tiliko | | Download |
| 14 | | Download Hot Gospel Songs | | Download |
| 15 | | Chanda Na Kay – Zambia Izavina (Album) | | Download |