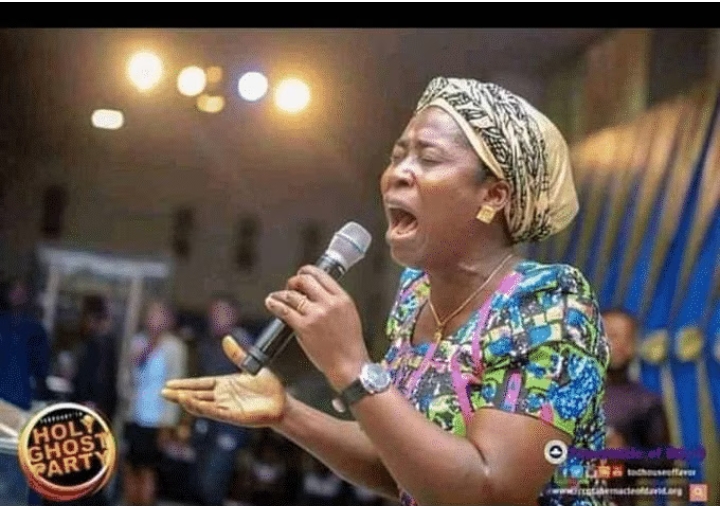 Osinachi – Ekwueme Mp3 Download
Popular Nigerian gospel musician, Osinachi Nwachukwu, is dead. The talented musician, who was popular for her hit song, 'Ekwueme' died on Friday. A source from Dunamis International Church headquarters confirmed the development to DAILY POST on Friday. It was gathered that the singer battled an undisclosed illness before her death.

We shall remember her through this good song she did. Check it out below!!
Download Now Download More Gospel Songs
Onye nwe anyi ezitewo Ndi mmoziya ka ha nonyere anyi You are the living God o Eze no one like you Ekwueme ekwueme Ekwueme ekwueme You are the living God o Eze no one like you Ekwueme ekwueme Ekwueme ekwueme You are the living God o Eze no one like you Speaking in tongues You are the living God o Eze no one like you Speaking in tongues Eze no one like you You're my healer you are my keeper My restorer my life-giver You are the living God o Eze no one like you No one can do me like you do No one can touch me like you do God eh You are the living God o Eze no one like you You picked me from the miry clay Set my feet on the rock to stay You are my promoter you are my defender You are the living God o Eze no one like you Okechi e nnukwu chi Okechi e nnukwu chi Nani gi bu ome okachie Nani ihe ikwuru bu ihe ina eme Omo okachie nnukwu chi Amama amasi amasi olori ihe loro che loro enti Agu bata ohia mgbada awara oso Ekwueme so gi bu ekwueme Ihe ikwuru bu ihe ina eme Ihe ikara bu ihe ina eme Obu onye n'ekwu ma chim kwuchasia Obu onye n'aturu chim uka chukwu Inweghi mgbanwe chukwu ebighebi e Inweghi onyiri amama amasi amasi Ebube dike okechi ekwueme Ihe ikwu k'ina eme Oloro ihe loro ihe loro enyi kpuru odumu n' Oke nmanwu n'eta onwe ya Ogbara nkiti okwu biri n' onu ya Echeta obi esie ike gaga n' ogwu Amama amasi amasi oje n' nmuo oje na madu chukwu oma Obata ulo adinma Ebube dike ebube dike ebube dike ebube dike Ekwueme ha Ekwueme ekwueme Ekwueme ekwueme ekwueme Chi jury éluigwe we ju uwa nile Ekwueme ihe ikwuru ka ina eme Ekwueme nani gi bu ekwueme Ikuku aman'onya chi obioma Ekwueme ememue ogara ngada nga Obata ulo adi uma chukwu onye olu ebube Ekwueme ihe ikwuru ka'ina eme Obu onye n'aturu gi uka chukwu oma Obudi onye n'ekwu ma ikwuchasi chukwu ebighebi Nani gi bu ekwu eme ihe ikara bu ihe ina eme o Ekwueme ibu ekwueme Oke nmiri nke n'ebu ogwe Ebighebi eligwe oke nmanwu n'eti onwe ya Obata ulo adimma Chukwu o chukwu o chukwu o chukwu o chukwu o Ekwueme Imedawomu obi chukwu oma oletara onye emejoro chukwu oma Ekwueme chi n'echere mu so gi bu ekwueme o Ekwuemem mu mmm ekwueme See what you've done for me See how you set me free You are the living God o Eze no one like you See what you've done for me See how you delivered me You are the living God o Eze no one like you Eze no one like you Eze no one like you You are the living God o Eze no one like you Lyrics
Content Tags
Osinachi – Ekwueme Mp3 Download
Prospa Ochimana Ft. Osinachi Nwachukwu – Ekwueme
Osinachi – Ekuweme Mp3 Download
| | | | | |
| --- | --- | --- | --- | --- |
| 01 | | Yo Maps - Mr Romantic | | Download |
| 02 | | Slap Dee ft. Cassper Nyovest - African Queen | | Download |
| 03 | | Chile One Ft. Chef 187 – Why Me | | Download |
| 04 | | Xaven Ft. Nez Long – Idedeshe | | Download |
| 05 | | Blake ft. Macky 2 – Dirty | | Download |
| 06 | | Alifatiq ft Rich Bizzy – Better | | Download |
| 07 | | Slap Dee ft. Cassper Nyovest - African Queen | | Download |
| 08 | | Chile 84 - Alira Wina | | Download |
| 09 | | Yo Maps - Aweah | | Download |
| 10 | | Macky 2 - OLIJABA (Full Album) | | Download |
| 11 | | Slapdee - Bola Ibaba | | Download |
| 12 | | Rich Bizzy ft. Chester – Focus | | Download |
| 13 | | Yo Maps ft T Sean – Tiliko | | Download |
| 14 | | Download Hot Gospel Songs | | Download |
| 15 | | Chanda Na Kay – Zambia Izavina (Album) | | Download |